Ismatec IPC-24 ISM739D Standard-Speed Digital Peristaltic Pump 24-Channel
Sorry, this item is out of stock
Web Information
Fewer tubing changes!
Flow rate of 0.002 to 44 mL/min per channel - flow rate depends on drive rpm and tubing size│Planetary drive for less pulsation and longer tubing life

Control via keypad, computer, or remote control│Smooth rotation and accurate liquid flow provided by eight SS rotors

Easy repeatability with four-digit LED

Simple to use—automatic occlusion cartridges provide reproducible results
These multichannel programmable pumps feature planetary gears that drive eight stainless steel rollers in unison for smooth rotation and accurate liquid flow. The four-digit LED display shows flow rate or rpm when pump is running. Use the MAX button to instantly increase speed for priming or flushing without disturbing your programmed settings.

Combine tubing sizes and formulations to suit your application. Click'n'go™ cartridges feature automatic occlusion for simplified use, fewer tubing changes, and reproducible results. Adjustable occulsion cartridges are available separately. Install cartridges in one direction for low pulsation; in opposite direction for higher counter pressure.

Order the two-stop tubing size and formulation to suit your application needs (sold separately). More than 100 options exist—the most popular sizes and formulations can be found under Accessories below!

Ideal for continuous pumping or for dispensing in any of five modes:
- Flow rate: 0.0004 to 44 mL/min (depending on tubing size used and model used)
- By time: 0.1 seconds to 999.9 hours
- Batches: set delay between dispensed volumes
- Drip-free: program back-steps to prevent drips
- Volume displays in mL or µL

Pumps feature analog input and output controls, as well as an RS-232 interface for control by a computer.

Remote control capabilities: RS-232 to control all operating functions (DB9 male); 0 to 5 VDC, 0 to 10 VDC, 0 to 20 mA, 4 to 20 mA for start/stop and autostart via contact closure (DB15 male); footswitch (three-pin DIN port). Monitor speed via analog output.
Specifications:
Characteristics
- microprocessor controlled
- planetary drive with 8 actively driven stainless steel rollers
- low pulsation
- high repeatability on all channels
- paint finished stainless steel housings
Tubing type
2-stop color-coded tubing, 0.13 – 3.17 mm i.d.
Tube-bed
- CA Click'n'go cassettes
- simple handling
- automatic occlusion setting
- defined and reproducible occlusion conditions
- each channel allows individual tubing selection
Operating panel
- 6-button membrane key-pad
- LED display
- MAX key for fast filling or emptying the tubing system
Operating modes
- pumping by drive speed (in %)
- pumping by flow rate (ml/min)
- factory-set flow rates for all available tube sizes
- dispensing by volume (ml)
- dispensing by time (0.1s up to 999hrs)
- dispensing by volume within a pre-set time
- interval dispensing by volume with a pause
- interval dispensing by time with a pause
- setting the number of dispensing cycles
- pause time setting (from 0.1s up to 999hrs)
- roller back-steps for drip-free dispensing
- stand-by mode — prevents the tubing system from drying out
- reversible rotation direction
Calibrating function
- for flow rate (ml/min)
- for volume (ml)
Rotor speed
- 0.4 – 45.0 rpm (IPC)
- 0.11 – 11.25 rpm (IPC-N)
Speed setting

- in %, resolution

0.1% (rpm)
- in µl/min or ml/min (flow rate)

Speed control
closed loop control for load independent speed
RS232 interface
RS232 "in" - for operation controlling via PC
RS232 "out" - for cascading up to 8 pumps
Digital inputs (TTL level)
Run/Stop, rotation direction, autostart
Analog input
Speed control (0–5 or 0–10V / 0–20 or 4–20mA)
Analog output
Speed monitoring (0–10VDC)
Differential pressure
1.0 bar (14.5 psi) possible (depending on tubing material);
small tubing diameters and/or cassettes with pressure lever allow higher pressures
Motor type

DC motor

Power consumption  

30 W

Power supply

115/230VAC; 50/60Hz

Protection rating

IP 30
Condition
Excellent functional and cosmetic condition.
Video of this unit in operation: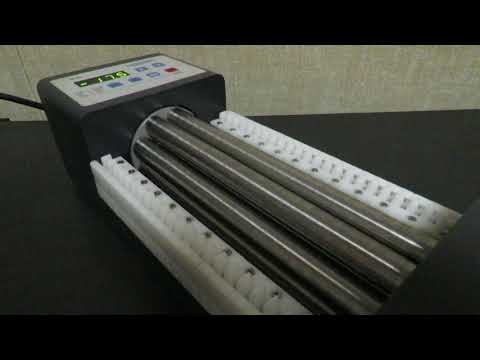 YouTube
Video will open in a new window
Using the eBay App? Paste link into a browser window:
[isdntekvideo]
Includes
(1) Ismatec IPC-24 ISM739D Standard-Speed Digital Peristaltic Pump 24-Channel
(1) Power cable
LR
Warranty
30 Day warranty. We pledge to offer the best service and warranty to all of our customers!  We are extending a 30 Day warranty on this item. This is our way of saying thank you for allowing us to serve you.

Certifi

cation
This is a genuine product from this manufacturer.
Disclaimer

The sale of this item may be subject to regulation by the U.S. Food and Drug Administration and state and local regulatory agencies. the item is subject to FDA regulation, we will verify your status as an authorized purchaser of this item before shipping of the item."

Regardless of the origin of the equipment, documentation provided or identification appearing upon the equipment, the equipment described and offered here is in no way certified for, recommended for, or offered for any specific use. The purchaser agrees that the seller shall not be held responsible or liable for any injuries or damages, whether incidental or consequential, associated in any way with the equipment. The purchaser, by bidding on this equipment, indicates their acknowledgment of, and agreement to the terms of this disclaimer. it is the purchaser's responsibility to have the item inspected and certified by a qualified professional before use!