Sigma 900 Standard Composite Waste Water Sampler - Excellent Functional Condition - VIDEO!
SKU: sigma900
Sorry, this item is out of stock
Web Information
The instrument is designed to automatically collect and preserve samples
from a liquid source. The sampler is suitable for collection of conventional and
toxic pollutants and suspended solids.The sampler collects samples on either a ti
med cycle basis, or in proportion to flow when used in conjunction with a flow meter (flow meter connected to the auxiliary connector). In the timed cycle
mode, the interval between samples is controlled by an integral quartz crystal clock. The sample interval may be set from 1 to 9999 minutes, in one minute increments. In the flow proportional mode, via an external flow meter, the interval between samples may be set from 1 to 9999 flow pulses, in one pulse increments, where each pulse represents a specific flow volume interval.
The number of minutes or flow intervals remaining unit the next sample is
shown on the control display. The program can be delayed by entering the
desired starting time and date on the sampler keypad.
The sampler utilizes a high speed peristaltic pump, for collection of the
sample liquid. The pump body is constructed of impact and corrosion
resistant plastic. Tubing is held firmly in place by the pump body haves-no
clamps are required. The intake line is air purged before and after each
sample. The duration of the pre and post sample purge automatically
compensates for different intake line lengths. The pump tubing is 0.95 cm
(3/8 in.) ID X 0.32 cm (1/8 in.) wall medical grade silicone rubber. Although
the pump is capable of vertical lifts up to 8.2 m (27 ft), lifts greater than 6.7 m
(22 ft) are not recommended unless the Remote Pump option is utilized. The
pump produces a sample transport velocity of 1 mps (3.3 fps) at 1 m (3 ft)
vertical lift. The sample is under pumped flow at all times from the source
stream to the sample container, thereby keeping solids in suspension.
Condition
Received from well maintained working environment that performed a system wide equipment upgrade.  Excellent functional condition.  Please note:  Power supply, inlet hose assembly shown in video are not included nor are sample collection bottles.  These are used for in house testing purposes.  Sample taken in video was collected in lower reservoir of instrument.

Watch a video of this instrument in operation below: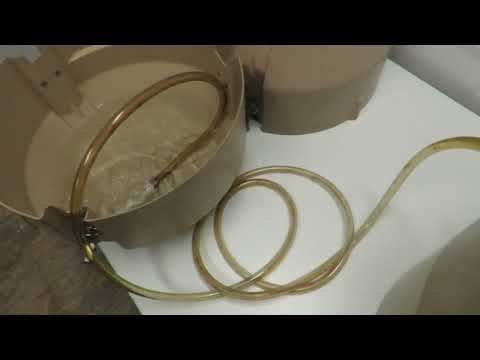 ExpressLabWerks.com Sigma 900 Standard Composite Waste Water Sampler
Video will open in a new window
Using the eBay App? Paste link into a browser window:
Includes
Sigma 900 Standard Composite Waste Water Sampler
BBR3

Warranty
30 Day warranty. We pledge to offer the best service and warranty to all of our customers!  We are extending a 30 Day warranty on this item. This is our way of saying thank you for allowing us to serve you
Certifi

cation
This is a genuine product from this manufacturer.
Disclaimer:
The sale of this item may be subject to regulation by the U.S. Food and Drug Administration and state and local regulatory agencies. the item is subject to FDA regulation, I will verify your status as an authorized purchaser of this item before shipping of the item."
Regardless of the origin of the equipment, documentation provided or identification appearing upon the equipment, the equipment described and offered here is in no way certified for, recommended for, or offered for any specific use. The purchaser agrees that the seller shall not be held responsible or liable for any injuries or damages, whether incidental or consequential, associated in any way with the equipment. The purchaser, by bidding on this equipment, indicates their acknowledgment of, and agreement to the terms of this disclaimer. it is the purchaser's responsibility to have the item inspected and certified by a qualified professional before use.!!